Dear guests, hunting friends and collectors,
Please allow me to take this opportunity to welcome you to the homepage of the Original Ritter Buechsenmanufaktur.
Ever since the introduction of the first firearms around the 16th century, it has been the task of the gunsmith to improve and attempt to perfect the weapons of his day. In the 21st century little has changed. A handcrafted gun should be more than a mere ornament for its owner, it should be a functional and yet a very special & individual object.
By the time I entered the 9th Grade at school I already knew that I had no desire to follow the path of a conventional profession, what I really wanted to be was a gunsmith. What appealed to me and drove my passion was the combination of traditional manufacturing techniques, craftsmanship, artistic design and the pursuit of precision that is exemplified by the art of the gunsmith.
I studied at one of the oldest specialist schools for gunsmiths in the world, in the Austrian town of Ferlach.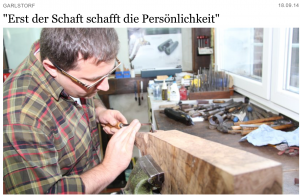 Upon the successful completion of my training I took up a position with a company in Aachen, Germany. It was there that I was able to refine my knowledge and skill with some of the finest gunsmiths in the world.
I took the step in 2006 of starting my own manufacturing business and workshop in the small Lower Saxony to
wn of Garlstorf, south of Hamburg. Now, after only a few years I am in the fortunate position to be able to count amongst my customers fellow gun enthusiasts from across Europe; discerning people who demand nothing but the finest in handcrafted bespoke hunting weapons, exclusively using noble woods and the most stylish and intricate engravings.
I offer a complete service including the production of individually tailored weapons as well as the repair and restoration of older or historic weapons.
Additionally I provide a complete range of equipment and hunting accoutrements, from sights and ammunition to clothing and accessories from many well-known manufacturers.
Yours Franz Ritter
Hamburger Abendblatt
http://www.abendblatt.de/hamburg/harburg/article132356980/Erst-der-Schaft-schafft-die-Persoenlichkeit.html